LIVE EVENTS
Get Tix Now to Slide Shows, Field Trip Tours & More!
GET TIX NOW: PALM SPRINGS, CA
Presented By Modernism Week
MODERNISM WEEK CAMP
333 S. PALM CANYON DRIVE
PALM SPRINGS, CA

Prepare for your Palm Springs loving pride to swell when Ambassador of Americana and tour guide extraordinaire, Charles Phoenix, leads you on this festive and fun-filled 2.5 hour tour atop a modern double decker, open-air bus.
Departing from CAMP, this exclusive tour is a rare opportunity to experience unobstructed views of over walls and hedges of the legendary residential, commercial and civic landmarks that made Palm Springs world famous for great architecture.
Combining his mid-century expertise and keen eye for detail, Charles shares the legend and lore of dozens mid-century modern buildings and other architectural treasures tracing the history of local modernism.
This is a rare opportunity to experience unobstructed views over walls and hedges of legendary homes and hotels such as the Movie Colony, Vista Las Palmas, Twin Palms, and Racquet Club Estates. See Neutra's iconic Kaufmann House, the Wexler Steel Homes and the spellbinding homes of Frank Sinatra and Elvis Presley.
Charles also offers insightful shopping, dining and other sightseeing tips! You will never think of Palm Springs the same way again!
MIDTOUR BATHROOM STOP: at the iconic Tramway Gas Station (1963) by Albert Frey, now the Palm Springs Visitors Center.
Tours happen rain or shine.
All seats are on the upper deck and exposed to the elements. Hats, sunglasses, and sunscreen are recommended; jackets on cooler days.
Stairs are required to reach the upper deck; all tours are wheelchair accessible on the lower level only.
This tour does NOT include interiors, only exterior views.
Sorry, no children under 12.
GET TIX NOW: PALM SPRINGS, CA
Live Comedy Performance Celebrating Mid-Century Sci-fi Life & Style
Palm Springs Art Museum
101 Museum Drive
Palm Springs, CA
Presented by the Photography Collection Council, Palm Springs Art Museum …
5-4-3-2-1!!! … BLAST-OFF !!! … Ambassador of Americana, Charles Phoenix, launches us into the spellbinding stratosphere of mid-century futurism ala flea-market found vintage Kodachrome slides and his recent road trip discoveries.
With his keen expertise and sharp eye for oddball detail, Charles explores the Tomorrowland era of out-of-this world suburban style, extreme architecture, car culture, tourist traps, theme parks, and much more.
Sit back and enjoy the fabulous flight as we time travel to a time and place where you imagination will be inspired and your space age spirit will soar …
AFTER THE SHOW Charles MEET n GREET !!! … complimentary mimosas will be served !!! ,,,
Festive dress is encouraged … but not expected!
Palm Springs Art Museum
101 Museum Drive
Palm Springs, CA 92262
GET TIX NOW: PALM SPRINGS, CA
A Delightful-Desert Themed Cocktail & Cake Party
Modernism Week CAMP
333 S. Palm Canyon Drive
Palm Springs, CA
Join Ambassador of Americana, Charles Phoenix for the final fabulous event of Modernism Week 2016!
Enjoy awesome appetizers and crafty cocktails served up in the colorful tradition of the Charles Phoenix Test kitchen meets Palm Springs style.
Following a final toast, Charles will cut and serve an all-new eye-popping, taste bud-tantalizing, towering cake concoction, co-created by the Jakes, the best bakery in town!
This exclusive event will take place in an a private area at Modernism Week's CAMP location from 4 to 6pm
Beer and wine will also be served.
Festive, retro dress is highly encouraged … but not expected!
Presented by Modernism Week
GET TIX NOW: LONG BEACH, CA
Live Comedy Slide Show Performance Celebrating The Epic City By The Sea
ART THEATER on RETRO ROW
2025 E 4TH ST
LONG BEACH CA

Presented by INRETROSPECT on Retro Row …
Be prepared for your local pride to SWELLL when Ambassador of Americana, Charles Phoenix, sweeps us away on a time travel slide show adventure extravaganza exploring Long Beach's classic and kitschy landmarks and lore then and now.
With his gracious sense of humor, unbridled enthusiasm, and keen eye for oddball detail, Charles reveals his guide to underrated, undiscovered and overlooked local landmarks, and the very best of his found vintage slides of Long Beach.
Experience the Pike, local oddities, landmark attractions, Art Deco and mid-century, mod architecture vintage neon signs, old timey places, mom and pop businesses, neato neighborhoods, the glory of googie, story of Miss Universe, the locals and much more all in glorious Kodachrome color!
Festive Dress is HIGHLY encouraged but not expected !!!
This performance is two-acts with an intermission !!! … Event begins at 11am ends at 1pm
AFTERSHOW CAKE & PUNCH PARTY … Meet Charles across the street at INRETROSPECT following the performance … and join him for Charles Phoenix Test Kitchen creations then shop til you drop on Retro Row, Charles favorite vintage shopping street on earth!!! …
NOTE: PLEASE do allow extra time for street parking !!! …
GET TIX NOW: LOS ANGELES, CA
6-Hour Walking & Bus Field Trip Tour Rediscovering The Heart & Soul Of The City Like It's A Great Big Theme Park!
Union Station
800 N. Alameda, Los Angeles
Experience the charm of MAIN STREET USA, exotica of ADVENTURELAND, wilderness of FRONTIERLAND, magic of FANTASYLAND, and future of TOMORROWLAND – all in the heart and soul of the city!
Led by Ambassador of Americana, this fun-filled tour of legendary Los Angeles landmarks includes Old Chinatown, Olvera Street, CLIFTON'S CAFETERIA, the Bradbury Building, Carroll Avenue, Angel's Flight, Bob Baker Marionette Theater, Union Station, Walt Disney Concert Hall and much, much more. You will never see downtown L.A. the same way again!
This 6-hour walking tour (we'll ride on an AIR CONDITIONED bus from location to location) begins at 11am SHARP, outside, in front of the main entrance of Union Station, and ends at 5PM, also at Union Station located at 800 N. Alameda, Los Angeles, 90012.
Tour attractions include, but are not limited to:
Union Station -1939, where we will explore the last grand train station built in the USA.
Ride the Gold Line "Monorail," to Chinatown -1938. Tour his exotic themed environment inside and out. Make a wish at the Wishing Well, enjoy an eggroll at the most iconic building in Chinatown, Golden Pagoda – 1941, Walk thru a classic souvenir shop, K.G Louis – 1938, explore Realm – an spectacular gift store in a former '40s Chinese restaurant and more.
Bus to Olvera Street – 1930, stroll the city's first themed tourist attraction, see LA's first Fire House – 1887, and the Pio Pico House – 1870, once the most glamorous hotel in town, stand before the recently revealed Siqueiros Mural – 1932, walk thru Avila Adobe – 1818, the oldest house in town, followed by the best taquito on the planet at Cileto Lindo!
Bus the legendary Clifton's Cafeteria– 1935, for a **No host** lunch and a tour of LA's most beloved (and recently reinvented) iconic landmark eatery!
Bus to the Bradbury Building -1893, walk thru the futuristic landmark, stroll thru Grand Central Market – 1918, see Angel's Flight – 1901, huff and puff up the hill to the Water Court Plaza, walk by the Broad Museum, tour the gardens at the Walt Disney Concert Hall – 2003, and see the Department of Water and Power – 1963, the greatest mid-century office building west of the Mississippi!
Bus to Carroll Avenue – 1880's, walk LA's most amazing concentration of Victorian houses. "If Main St. USA had a residential side street this would be it!"
Bus to the unforgettable Bob Baker Marionette Theater – 1961, experience LA's legendary puppet show followed by fresh whipped cream & strawberry cake from Chinatown's famous Phoenix Bakery in the children's party room.
Bus to Union Station on downtown's "Autopia" freeway … end of the tour. Farewells and goodbyes!
PLEASE NOTE:
Lunch at CLIFTON'S CAFETERIA is **no-host** Museum and show tickets, snacks, souvenirs and transportation are all included in the $119 ticket price. Itinerary may change without notice. This tour happens rain or shine. Wear comfortable walking shoes, be able to walk at a normn speed, go up and down steep stairs … and PLEASE BE ON TIME! I'm sorry this tour is not handicapped accessible.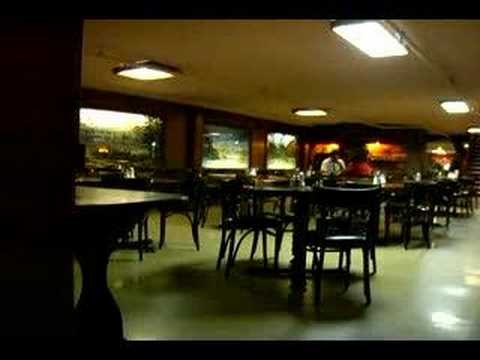 GET TIX NOW: LAS VEGAS, NV
Live Comedy Slide Show Performance Celebrating Classic And Kitschy American Life And Style!
ORLEANS HOTEL SHOWROOM
4500 W TROPICANA AV
LAS VEGAS, NV

Viva Las Vegas presents … Ambassador of Americana Charles Phoenix roasting and toasting vintage car culture, space age style via found vintage slides and road trip travel discoveries. Charles also shares his latest "test kitchen" concoctions and "best of" guide to local attractions
Be prepared for your American pride to swell!
NOTE: Each show, Friday at 3:30 p.m. and Sunday at 5PM., is completely different. Shows are free with a VIVA LAS VEGAS wristband